If you would like to visit the Masjid, please make a reservation in advance.
The Masjid also offers lectures introducing Islam to educational institutions and other organizations.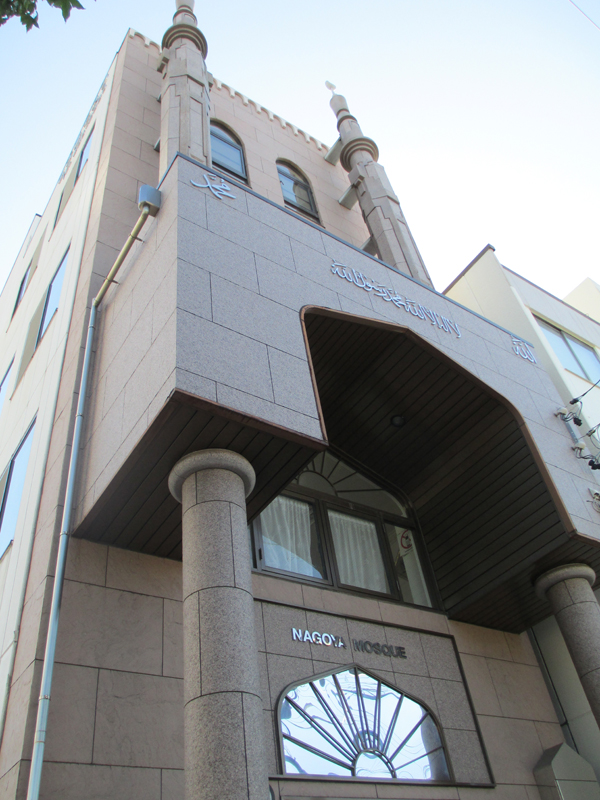 »If you wish for a lecture at your organization, details can be seen here
Timings for visiting the Masjid
The Masjid is open from the noon prayer (Dhuhr) to the night prayer (Isha). It will also open temporarily for the dawn prayer (Fajr).
On Saturdays, all rooms except the office is in use by various gatherings. Group visitors with over 7 people are requested to visit on weekdays and Sundays, so that we may do our very best in welcoming you (group visitors with less than 6 people may visit on Saturdays).
What to wear upon visiting the Masjid
As the Masjid is a place of worship, we kindly ask both men and women to enter with clothing that is not too revealing (shorts, miniskirts, tank tops, etc.).
For women, if you wish to visit inside the prayer room, we kindly ask for your hair to be veiled. You may bring any shall or scarf with you.
How to make a reservation
Please send us an e-mail here, along with the information below.
Which Masjid you wish to visit (Nagoya Masjid or Gifu Masjid)
Name of organization (For individual visitors, your name can be written instead)
Name of a representative, and his/her e-mail address
Number of people visiting
Dates you wish to visit on (Please provide us with 3 options, at least a week in advance, so that we may adjust meetings smoothly without clashes)
Reason and aim of visit (Please let us know in brief, so that we may prepare in advance for a pleasant visit)
Recent visits
Some of the comments received from visitors and their photos can be seen below.
・Visitors from 2022, Visitors from 2021, Visitors from 2020, Visitors from 2019
・Visitors from 2018, Visitors from 2017, Visitors from 2016, Visitors from 2015
・Visitors from 2014 and before
Recent Visitors (from previous 3 years)
Below is a list of visitors from educational institutions only. (Visitors from companies, local governments, and individual visitors are omitted from the list)
2022.11.1 Chukyo University, Assoc. Prof. and students (planned, introducing Islam)

2022.10.15 Sugiyama Jyogakuen University, students (planned, introducing Islam, online)

2022.9.15 Nagoya University, professor and students (introducing Islam)

2022.9.9 Doho High School, teacher and students (Introducing Islam)

2022.8.23 Toyo University, Prof. and Assoc. Prof.・Hitotsubashi University Graduate Schools, students・etc… (research cooperation)

2022.8.23 Hakodate University, Assoc. Prof. and students (Introducing Islam)

2022.8.22 Nihon Fukushi University Graduate Schools, students (research cooperation)

2022.8.18 Seijo Gakuen Senior High School, students (Introducing Islam)

2022.8.15 A prefectural high school of Aichi, students (Introducing Islam)

2022.8.15 Keio University, professor and student (meeting)

2022.7.12 Chukyo University, adjunct lecturer (Introducing Islam)

2022.6.21 Sugiyama Jyogakuen University, Assoc. Prof. and students (Introducing Islam)

2022.6.19 International University of Health and Welfare, Prof.・Sophia University, Prof.・Chiba University, Assoc. Prof.・The University of Tokyo, Assoc. Prof.・etc… (Research cooperation)

2022.6.18 Shigakkan University, Assoc. Prof. and students (Introducing Islam)

2022.5.28 Kogakkan University, students (Introducing Islam)

2022.5.28 Kogakkan University, professor and adjunct lecturer (pre-masjid tour meeting)

2022.5.28 Nagoya University of Foreign Studies, students (Introducing Islam)

2022.5.27 Hitotsubashi University Graduate Schools, students (research cooperation)

2022.5.27 Chukyo University, lecturer and students (Introducing Islam)

2022.5.24 Nagoya University of Foreign Studies, adjunct lecturer (pre-lecture meeting)

2022.5.19 Kyushu International University, professor (online meeting)

2022.3.28 Nara Women`s University, students (research cooperation, online)

2022.3.7 Meijyo University Senior High School, teacher and students (Introducing Islam)

2022.1.11 Nihon Fukushi University, students・A prefectural elementary school of Aichi, teachers (Introducing Islam)

2022.1.8 Kinjo Gakuin University, professor and students (Introducing Islam)

2021.12.12 The University of Tokyo Graduate Schools, students (research cooperation, online)

2021.12.1 Nagoya University of Foreign Studies, professor and students (Introducing Islam)

2021.11.30 Nagoya University of Foreign Studies, professor and students (Introducing Islam)

2021.11.16 Kobe Silver College (Introducing Islam)

2021.11.13 SPIRAL, high school participants (masjid tour)

2021.11.12 Chukyo University, Assoc. Prof. and students (Introducing Islam)

2021.10.30 A prefectural high school of Aichi, students (Introducing Islam)

2021.9.8 Monash University Graduate Schools, students (research cooperation, online)

2021.8.5 A municipal high school of Nagoya, teachers (Introducing Islam)

2021.7.20 Sugiyama Jyogakuen University, Assoc. Prof. and students (Introducing Islam)

2021.7.3 Keio University, Assoc. Prof. and students (participating exchange gathering, second visit or more)

2021.7.2 Waseda University, students (Introducing Islam)

2021.7.2 Waseda University, students (Introducing Islam)

2021.7.1 Meijyo University Senior High School, teacher and students (Introducing Islam)

2021.6.21 Tokai University, professor and students (research cooperation, online)

2021.6.6 Shigakkan University, Assoc. Prof. and students (Introducing Islam)

2021.3.26 Aichi Gakuin University, Assoc. Prof. (Introducing Islam)

2020.11.21 Meijo University, professor and students (Introducing Islam)

2020.11.7 Keio University, students (Introducing Islam, Participating SYM)

2020.11.7 Aichi Prefectural University, students (Introducing Islam, Participating SYM, second visit or more)

2020.11.7 Nagoya University of Foreign Studies, students (Participating SYM)

2020.11.3 Sugiyama Jyogakuen University, Assoc. Prof. and students (Introducing Islam)

2020.10.24 University of Shizuoka, students (Introducing Islam)

2020.10.24 Sugiyama Jyogakuen University, students (Introducing Islam)

2020.10.22 Sugiyama Jyogakuen University, Assoc. Prof. (pre-masjid tour meeting)

2020.10.17 Aichi Prefectural University, students (Introducing Islam, Participating SYM, second visit or more)

2020.10.3 Sugiyama Jyogakuen University, Assoc. Prof. and students (Introducing

Islam) ・2020.9.29 Toyo University, Assoc. Prof. (Pre-lecture meeting, online)

2020.9.5 Keio University, Assoc. Prof. and students (research cooperation)

2020.9.1 International University of Health and Welfare, Prof.・Toho University, specially appointed Prof. and students (research cooperation, online)

2020.8.23 Toho University, specially appointed Prof. and students (research cooperation, online)

2020.8.22 Nagoya University, students (Introducing Islam)

2020.8.21 A municipal high school of Nagoya, teachers (Introducing Islam)

2020.7.10 Meijyo University Senior High School, teacher (Pre-lecture meeting, online)

2020.5.22 Doshisha University, students (research cooperation, online)

2020.2.22 University of Edinburgh Graduate Schools, students (research cooperation)

2020.2.19 Nagoya University, students (Introducing Islam)

2020.1.18 Ehime University, students (Introducing Islam)

2020.1.4 Toyo University, students (Introducing Islam)

2020.1.4 Hosei University, adjunct lecturer (research cooperation)

2019.12.7 Nagoya University of Foreign Studies, students (Introducing Islam)

2019.11.30 Kyoto University, Honorary Prof.・Doshisha University, Assoc. Prof.・Gifu University, Assoc. Prof.・Morioka University, Assoc. Prof. (research cooperation)

2019.11.18 Chugoku Gakuen University, associate professor (research cooperation)

2019.11.17 Nagoya Gakuin University, instructor & students (Introducing Islam)

2019.10.26 Nihon Fukushi University Guraduate Schools, students (research cooperation, second visit or more)

2019.10.19 Seirinkan High School, students (Introducing Islam)

2019.10.1 Bukkyo University, students (Introducing Islam)

2019.9.15 Aichi Prefectural University Graduate Schools, students (Introducing Islam)

2019.8.17 A municipal junior high school of Nagoya, students (Introducing Islam)

2019.8.16 Nihon Fukushi University, staffs (Pre-lecture meeting)

2019.8.10 A prefectural high school of Aichi, teachers (Introducing Islam)

2019.8.10 A municipal junior high school of Nagoya, students (Introducing Islam)

2019.8.7 A municipal elementary school of Nagoya, students (Introducing Islam)

2019.8.2 A prefectural high school of Aichi, teacher & students (Introducing Islam & exchange gathering)

2019.8.2 A municipal junior high school of Nagoya, students (Introducing Islam)
ーomitted belowー