Procedures of Marriage in Masjid Nagoya
We hold ceremonies of Islamic formal marriage (Nikaah) and issue a marriage certificate in Masjid Nagoya.
Those who want (to have such a ceremony) are kindly asked to use Email to make an appointment. Here is the contact link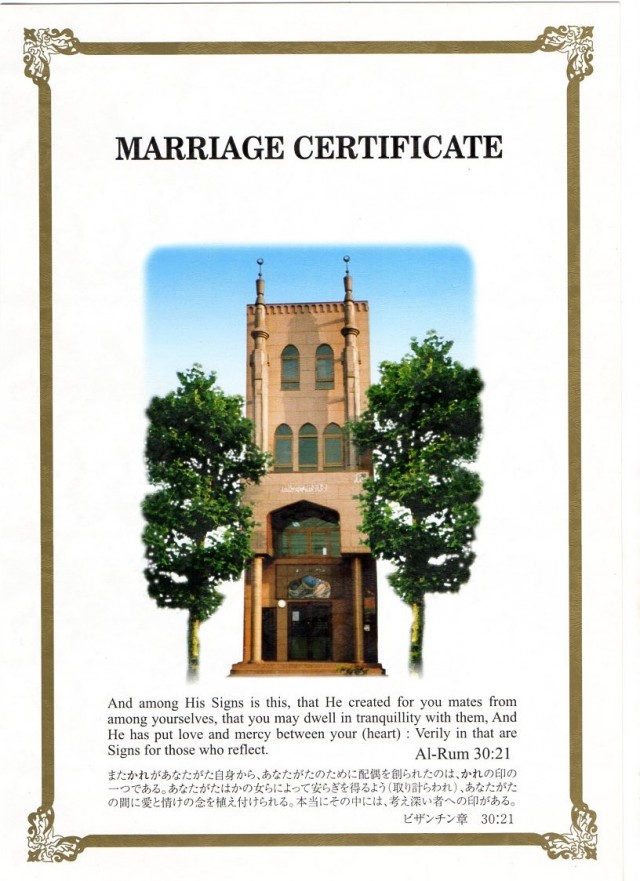 Required documents

1. Identification document (such as passport or driving license) for each side (of the couple).
2. Seal of each side.
3. Identification photographs; (3X4 cm) X 3 photos for each side.
4. If one of the two sides is Japanese, a marriage registration document is required. (It is called "Konin Todoke Juri" and possible to get it issued on the same day in city office)
5. If the female is a foreigner, an affidavit of competency to marry is required (issued in her embassy)
There are cases in which we can not respond to those who come directly to mosque (without an appointment), therefore, please be sure to make an appointment via Email.
The formal marriage ceremony is held at the first floor of Masjid Nagoya.
Marriage certificate will be handed about one week after the ceremony.