For Lectures at Your Organization
The Masjid offers lectures introducing Islam to educational institutions and other organizations.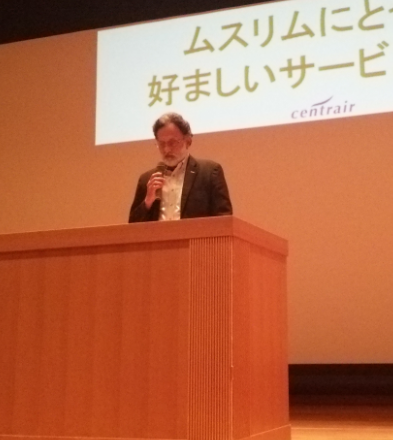 » If you wish for a visit to the Masjid, details can be seen here.
<How to apply for a lecture>
Please send us an e-mail here.
Name of organization
Name of a representative, and his/her e-mail address
Date of the lecture
Topic of the lecture
Date of meeting prior to the lecture (Please provide us with dates at least a week in advance, so that we may adjust meetings smoothly without clashes)
<Lectures offered in the past>
Leaflets/posters, pictures, and comments received from some of the previous lectures can be seen from the link below.
After 2020.
Before 2019.
<List of Recent Lectures>
Below is a list of lectures offered in the last 3 years.
2017.12.5 Chukyo University, "Problems Muslim children face in Japan" (Planned)
2017.5.23 Naze-chiku Koutou-Gakkou Shakaika Kyouiku Kenkyuukai, "Introduction to Islam ~Realities of Muslim children in Japanese schools~"
2017.4.15 Osaka Islamic Center, "Muslimah Networking Event, Parenting for Muslims"
2017.2.9 Aichi Prefectural Government, Tourism Bureau, Kokusai Convention-ka, "Seminar for Welcoming Muslims"
2016.12.24 Aichi St.Luke's Church, "A Message for Peace"
2016.12.6 Graduate School of Fujita Health University, "Introduction to Islam"
2016.11.28 Port and harbor Authority, City of Yokohama, Training for Human Rights Awareness "Discrimination against Muslims"
2016.11.19 Meito Rinsho Kenkyukai, "Introduction to Islam"
2016.11.1 Kenkou Café, Nonami Nihon 1 no Kai, "Islam for Beginners"
2016.10.30 Nagoya Nakamura Church, United Church of Christ in Japan, "My Family"
2016.12.24 Chubu-Kyouku, Aichi Nishichiku Kyoushibu Iinkai, United Church of Christ in Japan, "Christianity and Islam: Differences and Similarities"
2016.6.18 Nagoya YWCA, "Muslim Children living in this region"
2016.6.15 Asahi University, "Introduction to Islam"
2016.6.12 Bihoku, Bisei, Binan Branch, Aichi-ken Koutouggakkou Kyoushoku-in Kumiai, "Islamic Teachings, Muslim Lifestyles, and Muslim Children"
2016.2.29 Nagoya YWCA, "Muslim Children living in this region"
2016.2.22~2.24 Gifu Prefectural Government, Kankou Kokusaikyoku, Kankou Yuuchi-ka, "Seminar on how to increase Muslim Tourists"
2016.2.9 Soto-shu, Gifu branch, "Islamic belief and lifestyle"
2016.1.30 Aichi History Educationalist Conference of Japan, "The state of Islamic regions today"
2016.1.24 Dai-Nagoya University Network, "Understanding Islam ~Observing the world from Nagoya Masjid~"
2015.12.1 Atsuta-ku Chiiki Josei Katsudou Sokushin・Jinken Sonchou no Machizukuri Goudou Jigyou Jikkou Iinkai, "Different Cultures and Human Rights, Let's understand it together! Different Culture in Scool life (Islamic Culture)"
2015.7.11 Asahi Culture Center, "Islam from a Muslim Perspective"
2015.7.4 Asian Health Institute, "Teach us Ms. Sarah! Islam we wanted to know"
2015.7.4 Muslim Student Association of Japan, "Dawa in Japan and the role of the youth"
2015.6.18 Matsumoto City, Tounan Asia Ryokou Gaisha Shouhei Jigyou, "How to welcome Muslims"
2015.6.10 Aichi University, "Introduction to Islam"
2015.4.24 Nihon Fukushi University, "The Christian World from a Muslim Perspective"
2015.3.20 Shinshu Otani-ha, Nagoya Kyo-ku Kyouka Center, "A conversation between Shishu and Islam"
2015.3.19 Gendai Shukyo Kenkyuukai, "What is Islam?"
2015.2.18 Okinawa Convention & Visitors Bureau, "Seminar on a Halal welcoming"
2014.7.3 Kinjo Gakuin University, "Introduction to Islam"
2014.6.26 Chubu Centrair International Airport, "Service for Muslims"