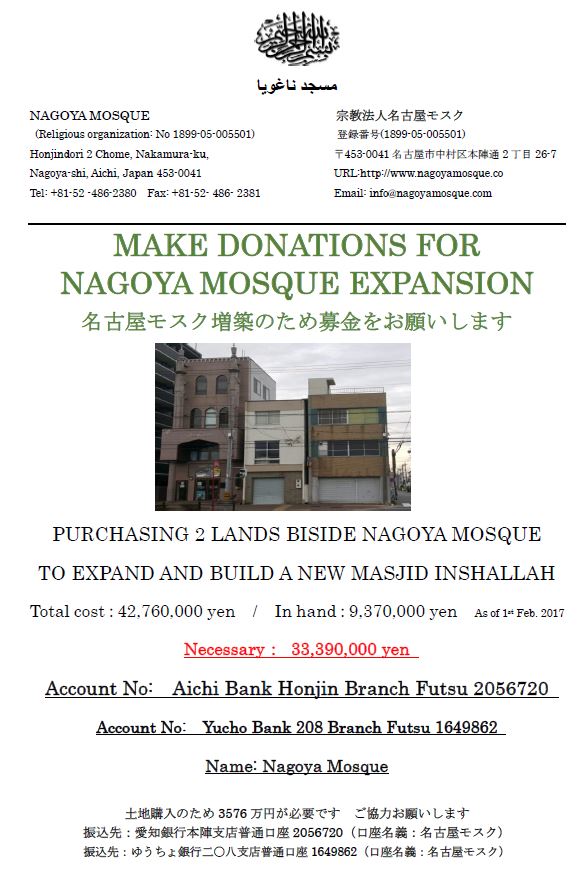 ≫Make donations for Masjid Nagoya Expansion
Masjid Nagoya has been established in Nakamuraku, Nagoya since 1998. The 17 tsubo (56㎡) land was a huge blessing from Allah, as the Muslims in Nagoya held congregational prayers by moving around rooms in apartments and small buildings until then.
However, recently, the number of Muslims residing in Nagoya has been rapidly increasing. As for the Eid prayers, we now see over 1000 brothers and sisters, Alhamdulillah. On Fridays, about 300 Muslims show up, and despite making the men use the female prayer room on the 2nd floor, we often see those that could not get in praying on the roof, stairs, and entrance where we take off our shoes. At times, when too many are on the top floors, the building sways sideways as if during an earthquake, making some fear it collapsing. After the prayers, we regulate the traffic within the Masjid, in order to prevent the weight from shifting on one side with all of them getting out to the narrow staircase at once. In case of a Friday clashing with a national holiday, even more Muslims tend to gather, and a few of them are left to pray on the streets, leaving us the concern of harming the relationship with our local neighbors.
Raising our hands to Allah, that one day Masjid Nagoya can be enlarged. Alhamdulillah, we are taking small steps towards it, and 2 years ago, we were successful in purchasing a small house behind the Masjid, which is now dedicated as the female prayer room on Friday. This month, it has finally been decided that the house next to the Masjid can also be purchased, and we are now negotiating with the one next to it as well. If we add these three lands to the initial 17 tsubo (56㎡) that we have, Inshallah, it will be possible to establish a large Masjid on a total of 68 tsubo (224㎡) of land.
Though the construction fee is also a must in the near future, for now we are urgently trying to collect the amount needed to ensure the purchase of the lands. Through negotiation with them, it is now decided that by adding the 9.37million yen we have as of now, we now need 33.39 million yen more to realize this dream.
We kindly request your assistance in collecting the necessary funds. If Allah wills, we are determined to have a large Masjid in Nagoya that can become the symbol of Islam of the entire Chu-bu region in Japan. Sadaqat account is mentioned above.
Sadakah for Maintenance and Management of Islamic Center of Nagoya is received at:
Bank name: Aichi Bank
Branch name: Honjin branch
Account type: ordinary account
Account number: 2056720
Account name: Islamic Center of Nagoya
Bank name: Yucho Bank
Branch name: 208 branch
Account type: ordinary account
Account number: 1649862
Account name: Islamic Center of Nagoya
Zakat paid to Islamic Center of Nagoya is received at:
Bank name: Aichi Bank
Branch name: Honjin branch
Account type: ordinary account
Account number: 2056710
Account name: Islamic Center of Nagoya ZAKAT FUND
Sadakah for School project planned by Islamic Center of Nagoya is received at:
Bank name: Aichi Bank
Branch name: Honjin branch
Account type: ordinary account
Account number: 2056701
Account name: Islamic Center of Nagoya SCHOOL FUND
Indeed, those who believe and do righteous deeds and establish prayer and give zakah will have their reward with their Lord, and there will be no fear concerning them, nor will they grieve.The Holy Qur'an, Surat Al-Baqarah, Verse (277)
Never will you attain the good [reward] until you spend [in the way of Allah] from that which you love. And whatever you spend – indeed, Allah is Knowing of it. The Holy Qur'an, Surat Aal Imran, Verse (92)