Embracing Islam at Nagoya Masjid
Nagoya Masjid is more than happy to assist anyone wishing to embrace Islam. The ceremony can be held at the Masjid, and an official Muslim Certificate will be issued. This certificate will become necessary later when marrying a Muslim, performing Hajj and Umrah (Pilgrimage to Mecca), and at the time of burial.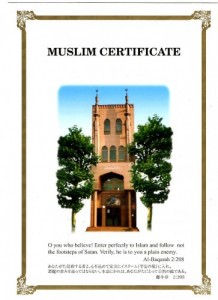 We strongly advise you to understand the Islamic teachings prior to embracing Islam. We are more than happy to answer any questions you might have.
Please contact us → here for an appointment.
Please note the following.
1. Required documents:
– Identification document 0
(ex. Passport, driving license, etc.)
– Inkan (Name seal)
– 2 Identification photographs (3×4 cm)

2. Please make an appointment prior to your visit, so that we may fully assist you.
3. The ceremony will be held in the first floor of the Masjid.
4. The Muslim Certificate will be handed to you in about a week after the ceremony.
※ For those who wish to embrace Islam, please be advised to take Ghusl (Bath) beforehand.
"What do I do at the ceremony?" Detailed answers to this, and other frequently asked questions can be viewed here.