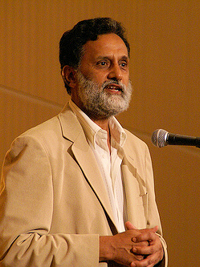 Assalamu Alaikum
Welcome to the official website for Nagoya Masjid.
My name is Abdul Wahab Qureshi, and I serve as the Chairman of Board of Directors at Nagoya Masjid.
To introduce myself, I was born in 1957, in a city called Hyderabad in Pakistan. I have 7 brothers including myself, and my father was a businessman.
I worked as a teacher at an elementary school, but came to Japan for the first time after being recommended by a friend. I then got married with my Japanese wife in 1990, and I am now a father of 4 sons, exporting cars for a living.
To everyone visiting our website, I guess you have come across us because of your interest in Islam in one way or another. I wish to tell you that as a matter of fact, the sense of values of the Japanese and the sense of values of Islam has so much in common.
For example, the Japanese are extremely honest in their business dealings. I still cannot forget when I went to Akihabara for the first time in my life, and was explained that "this item is cheap because it's an older model" and "this item is expensive because it's a newer model".
Also, being pure and clean is an important value held in Islam. People in Japan follow a beautiful custom of when going out to eat, they take their litter home, and never throw them out in the streets. This as well, coincides with the values held in Islam.
I cannot be happier if this website serves to deliver the true teachings of Islam, no matter how little it may be.
Abdul Wahab Qureshi
Chairman of Board of Directors at Nagoya Masjid