Hereby we show the a part of the impressions received from the visitors to the mosque in 2017 together with the photos
Here are the impressions of (visitors) in 2016
Here are the impressions of (visitors) in 2015
Here are the impressions of (visitors) in 2014 and before.
2017.7.4 Students of Nagoya City University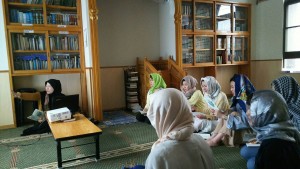 It was nice to learn the details of Islam. These were something that we can never learn in school.
When I studied about Islam for my entrance exam in the Ethics subject, I felt the way it was taught was way too formal. Japanese education should teach in a way that we can understand the Islamic values and how it's related to the daily lives.
My uncertain knowledge and impression towards Islam was corrected today, and that was beneficial for me.
The explanation was made from a Japanese perspective, and examples from the daily lives in Japan were used too, which made it extremely easy to understand. I used to think Islam was something for a different world, but now I feel Islam close to me.
Ms. Sarah had an amazing personality, and my image towards Muslims has become warm and welcoming. Also, I felt the importance of deepening our knowledge. As she told us that knowing Islam is the first step to understanding it, I talked to my family when I got home.

2017.6.4 Students of Aichi University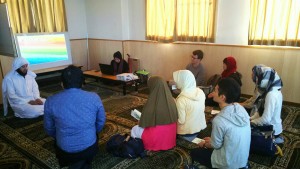 2017.6.4 Nagoya University of Foreign Studies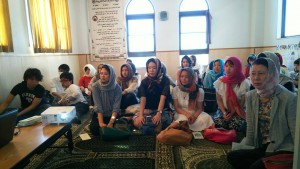 Before coming, I cannot deny that I used to judge Islam without knowing what it really was. But today, after I have listened to the talk, the image of Islam within me completely changed. The talk was very enjoyable, and I wish a lot of the Japanese would also learn all that I heard. It is such a big thing for me that the image I had of Islam changed from an extremely strict religion to something loving and affectionate.
 I thought this religion was something very difficult for the Japanese to understand, but the more and more I learnt, the more I felt this was a compassionate and wonderful religion.
 I understood the difference between Islam and IS as well. In the world of informatization today, the media needs to clearly tell us the differences.
 I thought I knew a bit about Islam through my Muslim friend and my activities with an NGO, but I realized today that I was still far from knowing enough. Also, my interest in Islam grew even more.
 Through actual interaction with Islam today, it made me realize that the reality was very different from the image portrayed in the media. Listening to and studying is always important, but to actually experience and interact with Islam ourselves is even more important.
2017.6.3 Green Echo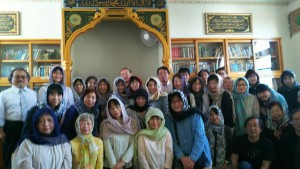 Green Echo will sing the "Armed Man : A Mass For Peace" (total of 13 tracks) by Karl Jenkins on their 59th concert performance on the 25th of June (sun). In its 2nd track, the Athan (Islamic call to prayer) will be called in Arabic.
Masjid Nagoya has kindly introduced the caller of the Athan to us, and on the 3rd of June (Sat), we organized an "Experience Islam, and listen to the Athan tour" along with 36 of our members (and 1 family member). We were nervous when we gathered, as we were informed beforehand to refrain from revealing clothes and to have our heads covered with scarves. However, the talk by a Japanese woman named Ms. Sarah (wife of the chairman) completely took away our misunderstanding and prejudices. The talk was on point, yet gentle and soft, as if in a lecture at school. When we, nearly the 40 of us, were sitting nervously again at the time of prayer, she informed us that we were free to take pictures, and it was heartwarming to see the younger Muslims and excited children gradually gathering to pray. Also, the first live Athan we listened to was beautiful, and we couldn't wait to listen to it in the concert hall. Masjid Nagoya was very active in engaging with other religions such as Christianity, and also with the youths and neighbors around. Islam used to be something very far from us, but now we felt it close. We were told that this religion is absolutely unrelated to IS, and that it honors peace and respects women. Ms. Sarah mentioned appreciation to Jenkins for including the Athan into "Armed Man : A Mass For Peace" , a track that dreams of peace. This only made us realize that we too must greatly appreciate Jenkins and the people of Masjid Nagoya for this wonderful opportunity. Also, now that we had this opportunity, I wish to understand Islam warmly from now on, without worry.
2017.4.28 Students from Aichi Gakuin University
This was my first visit to a mosque. The mosque has a very homelike atmosphere and I have noticed that it is a place for Muslims themselves to exchange thoughts among each other too. When I saw how Muslims from various countries use their common language of Islam to establish friendship relations between them, I felt how difference the Islam we see in media is. I think that now the going-alone bad image of Islam is caused by the extremists who assume the name of Islam. I have realized how important it is to come to a mosque, see by one's eye and understand from experience before we adapt a prejudiced view of point.
2017.4.8 Teachers from Aichi Prefectural High School
 I am working as a high-school teacher, and I am about to teach Islam in school lessons, so I thought I could be instructed about Islam in this mosque, and was kindly allowed to join a study and observation tour round the mosque. / To be honest, just up till I arrived at mosque, I was wondering; -and excuse me for my rudeness- "what kind of place would it be?" "What if it is a dangerous place? Won't they try to induce me to do weird things?" Also, I even felt a little afraid when I saw lot of foreigners at the entrance of the mosque. I think this enigmatic fear has been my impression towards Muslims so far. / However, such an impression entirely vanished in the course of listening to Madam Sarah's speech, touching the cheerfulness of the Muslim children and listening to the talk of Muslim persons. I soon realized that I was arbitrarily holding the impression that "Islam = frightening" all the way without any basis. I believe I want now to teach my students what I newly know about Islam, based on my own (experience of) misunderstanding till now, and on what I felt and learnt at mosque. Thank you very much for the precious experience.
2017.3.11 NAGOYA YWCA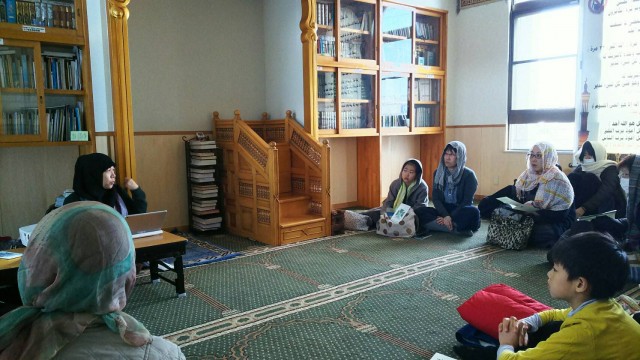 2017.2.18 authorized people in fine arts
Attending the speech and observation of the prayer was an extremely meaningful experience. As a Christian, and through drawing pictures, I express the relations of course between Catholic and Protestant, and the Eastern Church. However, I felt that there is necessity to know about (others) like Judaism and Islam. The (talking about) writing culture and how to perform the prayer and alike were extremely useful. I want to come to mosque again when there is a chance.
2017.1.29 (IARF)International Association for Religious Freedom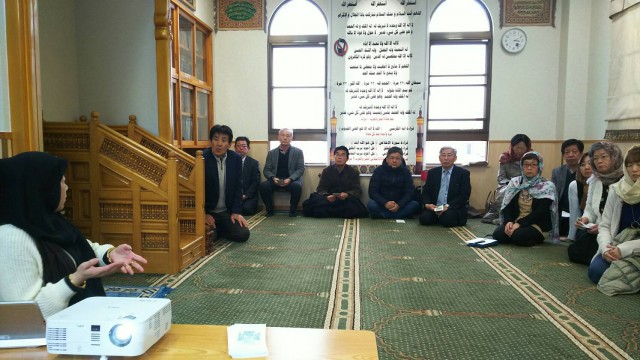 Thank you very much for today. I went back home with full satisfaction after I got a fulfillment that exceeded my expectations. I feel that 100% of what I heard was various things I have not known. (Omission). I believe it was a very significant (meeting) because (it was a chance) to hear from some persons for the first time or to meat persons who I misunderstood while not knowing the truth (about them). I am happy that I could approach (Muslims) as fellows who aim at the same peace target even though their belief is different. After I touched the wonderful principles of Islam, I want to integrate the good things into my own life.