Eid Mubarak!
Eid prayer was held in Fukiage Hall on August 11th. Over 1500 Muslims gathered to celebrate.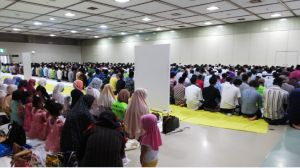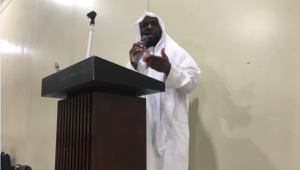 Imam Ahmed of Masjid Nagoya was out of Japan to perform Hajj, and hence the Khutbah was delivered by Imam Suleiman. It was mentioned that the act of sacrifice is not only reserved for animals. Rather, there are many other aspects in life we can sacrifice, including our sleep to engage in more prayer. He also reminded the gathering that purification of our hearts will lead us to success in this world and the next, and this process involves prayer as well.
For children, the Masjid prepares snacks and candies as gifts. Young Muslims who belong to SYM kindly helped out, as they do every year, in the distribution, saying "Eid Mubarak" one by one to the small children. May Allah reward them abundantly.