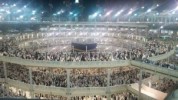 Hajj is one of the five pillars of Islam. It is a requirement for all Muslims that are physically and financially able, to go to the holy city of Makkah and fulfill the necessary procedures, at least once in their life. For those who wish to do so this year, please contact Masjid Nagoya.
≫For details regarding Hajj, click here.
≫For a past Hajj report, click here.
Date: 2018/08/11 ~ 08/31 (may be subject to change)
Price: Around 600,000 Yen
※ Up to 10 Japanese reverts are eligible to apply for a Hajj invitation (full fees covered).  In case of too many applicants, participants will be randomly selected by the end of April. (In case of few applicants, applicants will be able to participate on a first come, first served basis from May.)Please make sure you have/prepare your Muslim Certificate, as this is one of the required documents.
For those who wish to apply, contact us via e-mail with your name, nationality, date of birth, phone number, and passport number.
For further inquiries and applications: info@nagoyamosque.com
※ We are unable to accept applications via phone.