We are excited to announce our upcoming event, "SYM祭". It will be held on March 18th (sun), at Masjid Gifu after the Dhuhr prayer.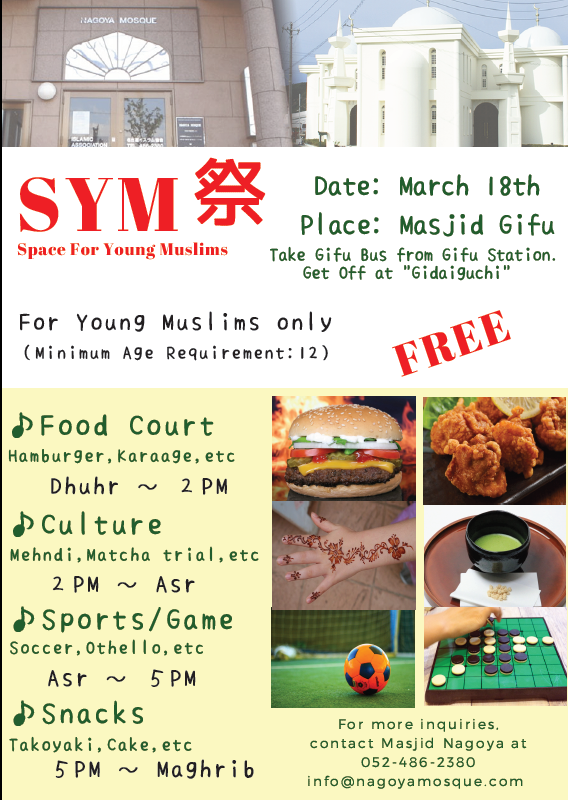 SYM stands for Space for Young Muslims.All Young Muslims above the age of chuugakusei are invited and welcomed, regardless of which Masjid they are regular attendees of, or whether they have ever stepped inside a Masjid before or not. Come and taste our delicious Halal meal and sweets, and make sure you play sports/games before you leave. Don't forget to bring your friends along as well!
※"Chuukousei-no-kai" at Masjid Nagoya has provided a comfortable and non-judgmental space for Young Muslims(chuugakusei and koukousei) since 2014. This month, the gathering has been renamed to "SYM Masjid Nagoya", and the Masjid is dedicated to offer them its full support. Not only is it a space for chuugakusei and koukousei, but it has now also become a place for all Young Muslims at the age of enrolling in university.
Young Muslims, as usual, are welcomed to join our gathering at the same place and time. (Every Saturday from 5PM to 6:30PM at the Community Room behind the Masjid. Snacks and drinks are provided on the first Saturday of each month)
The Japanese Poster can be seen here.