Eid Mubarak!
Around 2000 Muslims from the Tokai prefectures have gathered today at Port Messe Nagoya to celebrate Eid al-Fitr. The more than usual number of participants over-flooded the venue, successfully marking the end of Ramadan.
Before the Eid prayer, the chairman of Masjid Nagoya emphasized the importance of warmly welcoming new Muslims. Many Japanese converts are increasingly avoiding the Masjid, due to experience of being scolded or forced upon a restricting life instantly by fellow Muslims.
Let us be more patient in our ways of supporting our new brothers and sisters.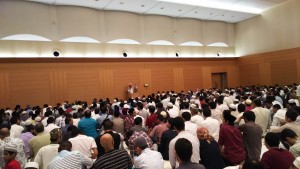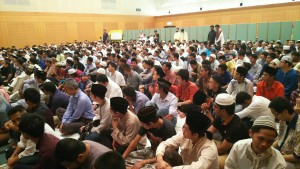 Snacks and treats for children were organized again to assure they enjoy this day as much as the adults do.
We pray for all to understand and appreciate the value of gathering for Eid together with our entire family.