February 2016, between 22nd (Monday) and 24th (Wednesday)
We joined a seminar about receiving Muslim tourists that was directed to business operators related to tourism in Gifu prefecture. Below is the coverage of that event.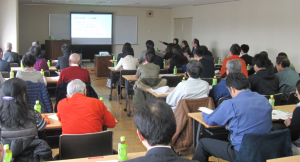 Schedule: 22nd in Ena assembly place, 23rd in Gero assembly place and Takayama assembly place, 24th in Gifu assembly place.
Sponsor: Gifu prefecture (As for Takayama Assembly hall; cosponsor of Takayama city and Shirakawa village, and support of Chubu District Transport Bureau).
Lecturers: a spokesperson of Masjid Nagoya in addition to a spokesperson of one of the Representative of Gifu prefecture Manufacturer's (Mac-Eight Japan).
Lecturer from Masjid Nagoya introduced doctrine and customs of Islam, and wished the reception of Muslims to be meeting their needs, natural and unstrained. Lecturer by Representative of Gifu prefecture Manufacturer's talked about the latest trends of travels from Malaysia with examples, and emphasized that Accept of Muslims is not difficult.
The number of concerned persons, from accommodation establishments, restaurants, self-governing bodies and tourist associations, who gathered in all assembly places, was so great that we felt the high interest in reception of Muslims. However, we felt worried that some of the information was biased, that people who are putting hurdles are not few, and that questions based on considerably strict view of point appeared [Such as; "is it better to wrap the dish with a cling film when presenting food to a Muslim?" or "can not a pot which was used for other foods be used again even if it is washed?]
But the conclusion was that both lecturers have, by a curious coincidence, appealed that there are various views of point, that responding to the strictest view of point will affect on the continuation, and that they both wish (the concerned persons) to approach with the things they can simply do. There was a complete consent between Muslims on one side and persons who got practical experience by travelling or being travel agents on the other side that the priority point is to present to Muslims the information that enables them to judge themselves rather than to respond to Halal (criteria).
In the assembly place of Takayama, there was held a panel discussion that adapted the subject "a reception that is not shackled by Halal certification", and in which people who are actually engaged (in such business) interacted.
The panelist (included) representative of Hidashi Soba Kofune which offers alcohol-free Soba, head chef of Tenma which offers non-pork non-alcohol Ramen, and head chef of Tanabe Ryoukan which offers Kaiseki made by Halal chicken.
The three persons talked with an impressive smiling full-of-confidence faces. They said they saw Muslim travelers eating Soba after adding salt to it or eating Onigiri in convenient stores, so because they would like Muslims to enjoy food in Takayama they made efforts to develop foods made without Mirin or Chicken carcass soup. They said there were worries of degraded taste, but rather they would be glad to get the Muslim travelers to enjoy.
(During the break, people excitingly crowded while tasting Ramen soup or Soba soup)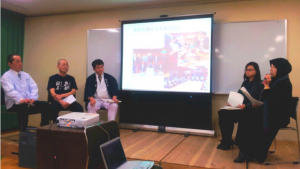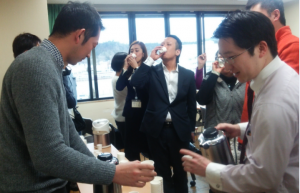 Takayama city and Shirakawa village in Gifu prefecture were (both) selected to be supported by public agencies as lands for projects of receiving Muslins visiting Japan. Progress of such projects in Chuubu region is good news not only to Muslims visiting Japan but Muslims residing in Japan as well. We would like to support such tourism related business operators to increase even by one; (we mean) the operators who take care not to make the hurdles higher, and to receive Muslims visiting Japan naturally.