21st of February
Imam of Nagoya mosque, Mr. Ahmad, participated in a relay race of "InterFaith 2016" entitled "A Relay of Peace-hoping Prayer". Below is the coverage of that event.
InterFaith relay is a relay in which 4 followers of different religions (for example; Buddhism, Shintoism, Christianity and Islam and others) form one team, and they run towards the goal while handing a sash on which there was written "praying for world peace", (reference; home page of InterFaith relay).We are glad that we were able to participate as Muslims in the event of InterFaith in which various faiths are interacting.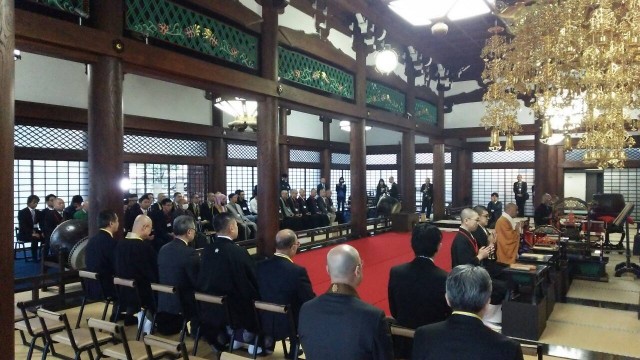 One day before the relay, representatives of each religion, about 40 persons, arrived in Kyoto, visited temple of Honnou which belongs to a branch of Buddhism called "Hokkeshuu Daihonzan", and there they offered a silent prayer for the victims of the great earthquake of east Japan (happened in 2011), and prayed together for the peace of the world.
On the appointed clear-weathered day, the 10 teams of religion representatives mixed with participants of Kyoto Marathon, and started at 9 O'clock from sports assembly hall of Nishi Kyougoku. In team of Imam Ahmad (J), participants from Joudo were runners of section number 1. After that, runners of section number 2 who were from Shinnshuukyou, started from temple of Ninna and delivered the sash at 11: 20 to Imam Ahmad who was waiting in front of Notre Dame elementary school. Imam Ahmad managed to safely complete section number 3, and at 12:13 he submitted the sash to runners of section number 4 who were participants from Soutoushuu. (We can put it as) faith of followers of Buddhism, Shintoism and Islam was bound up together.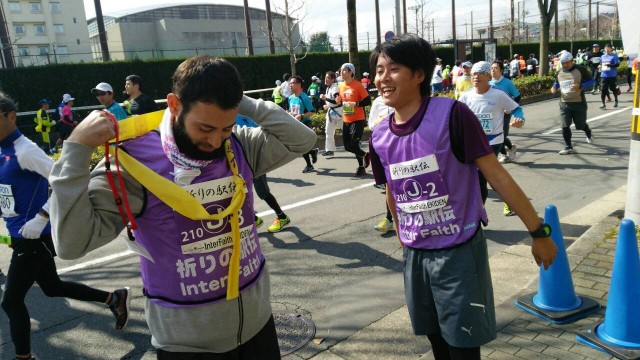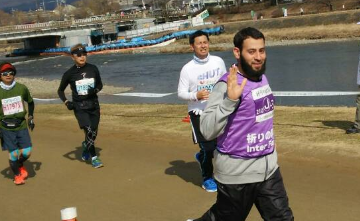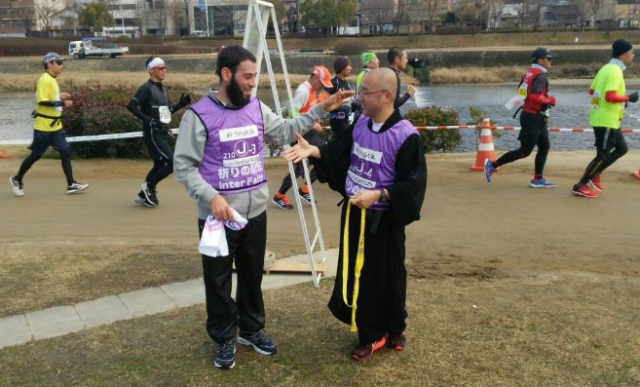 Thanks to all people who shouted for encouragement on the course, and to all people who kept making Duaa from far away.
And also we raise our gratitude to all gentlemen who granted us this valuable chance; InterFaith Executive Committee in Japan as well as Japanese Association of Religious Organizations and Kyoto Association of Religious Organizations.
※as regards InterFaith refer please to this link.

The appearance commendation ceremony
The record of Imam Ahmad's team (J) was 4 hours 24 minutes and 11 seconds by which it gained third place.