Between 24th September ~ October 14th
Including Imam, 11 Muslims from Masjid Nagoya attended Hajj (pilgrimage) of 2014 between Wednesday 24th of September and Tuesday 14th of October.
Although there are many spiritual and physical (laborious) things to experience in Hajj, this time Alhamdulillah and thanks to the (good) arrangements of the tour company, which was Mian International from Tokyo, we managed to finish all stages without hindrance.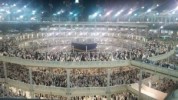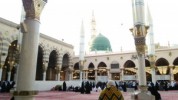 Japanese Muslims who joined Hajj this year were 13 persons, 8 of which were from Masjid Nagoya.
We are grateful to the grace of Allah who bestowed a lot of blessings upon us.
Below are some selections of the impressions which we received from Masjid Nagoya's attendee;
<Outline>
By virtue of Hajj, and under various good influences, I am enjoying the feeling of having several things become clear, together with (enjoying) the deep touch of the heart, just as if a blurring cloudiness were removed from one's eyes. There were many things which I feel that, no matter I am in the middle of Hajj trip or I am back at home, they become great treasures of my life. I believe it was really good that you kindly granted me the chance to go to Hajj.
What I think now is that I should have studied more about Hajj.
I am delighted that, among the large number of people who want to go to Hajj, I was able to go.
I was amazed by the great renewal (comparing with) what I experienced 18 years ago. For example: I was prepared to endure the intense heat in Arafa's stay, but I found the neat little tent fully equipped with air conditioning. Also, I was prepared for death when heading to throw stones, but I found that the stone pillar was reformed into a side-elongated one to relieve the crowds. In addition, (currently) locating toilets and watering places everywhere (is good). So all my priori tensions were dramatically relieved and everything was safely and comfortably prepared. We should be grateful to the measures taken in Hajj by Saudi government.
<As regards physical condition>
As I had a cough since last day in Makkah and during my stay in Madinah, I went to hospital after I came back home and found that I had a "Stress fracture" due to bronchitis and too much cough.
I arrived early and performed Umra, in which I was pressed by the crowd during Tawaf and had a rib crack.
I caught a cold that didn't heal for one month, and had an eye pain because of the dust or the sand (I don't know).
I had a 38-degree fever on the second day I came back home, and took two days off work. Also my husband had a 40-degree fever after coming back and took a few days off work. My child had fever too on the day we moved from Mekkah to Madinah.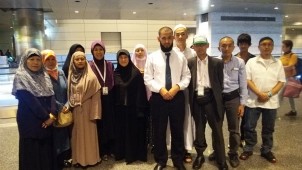 <As regards tour company>
We were heartily so grateful to Mr. Mian and to Prof. Selim, who have an abundant experience in Hajj, because they taught us when and how (to perform rituals) with the minimum burden and in the simplest way while preserving Sunnah through all the stages. (Their guidance) was particularly helpful in the place of throwing stones; because we walked in a line on the left side of the road while going up to there, then upon reaching there, and since they led us with the Japanese flag in front, we could throw the stones comfortably from the most vacant and nearest location to the pillar, and after finishing (throwing), we could soon gather again under the Japanese flag landmark.<\li>
When my child had a fever, they promptly responded, and kindly transported him to the clinic in a wheeled chair. I am grateful for that.<\li>
I am thankful to the kind various concerns, and grateful that we managed through the (good) arrangements of the tour company of this time.<\li>