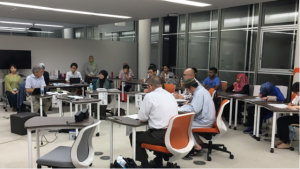 This is to inform that we participated in the meeting for Muslims around Japan at Keio University.
Date: August 6th 1pm ~ 7:30pm
Location: Keio University SFC campus T-Building
Topic: "Dealing with the Halal Certification"
"The Muslim Community in Japan"
In the first section, along with the keynote speech by Okuda Atushi, professor of B.A. Policy Management at the Keio University, Muslims from Nagoya, Sapporo, Fukuoka and Chiba each gave a presentation. From Masjid Nagoya, we focused on three matters, counseling requests we receive regarding Halal, recent cooperation with local governments, and examples of interactions with non-Muslims and the local community. In the second section, all participants shared an opposing view on Halal certifications that are business minded. In the third section, Okuda Research Group and the Islamic Research Lab gave a progress report on their activity. At the fourth section, we discussed on what the title of our council should be, and concluded by issuing a joint statement.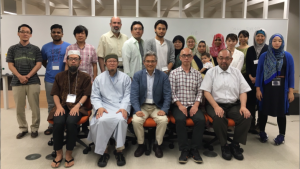 What makes this year's meeting a huge improvement from the last is that a joint statement was made and all participants shared the same stance. Also, the title of this meeting has been decided to Japan Islamic Scientific Council. This beneficial and fruitful meeting has brought us one step further to solving the problems Muslims face in Japan.
For last years meeting; http://nagoyamosque.com/7686.html
Added on 22nd August 2016
A press release was published by the Keio Research Institute at SFC regarding the second meeting for Muslims around Japan.
Below is an excerpt from it (translated).
"The Laboratory of Islamic Studies at the Keio Research Institute at SFC and the Kanagawa Prefecture has been cooperatively working together for 2years for the 'Development and enforcement of the Muslim service personnel training program' since 2014.
As part of the program, the second meeting for Muslims around Japan was held on the 6th of August at the Keio University Shonan Fujisawa Campus. Matters on Halal and the Muslim community in Japan were discussed, and a joint statement was made under the name of Atsushi Okuda, the director of the laboratory. This is for the realization of a more coexisting society, which also is the basis of the Muslim service personal training program.
Also, as an environment to further discuss and understand such matters, the 'Japan Islamic Scientific Council' was officially established."
The joint statement can be seen here.(Japanese)
https://www.kri.sfc.keio.ac.jp/ja/press_file/20160819_islamlab.pdf