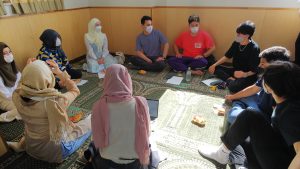 This is about an exchanging event that was held with Students from Keio University and young Muslims.
Date & Time: July 3h (Sat) 2:30~5pm
Place: Masjid Nagoya 4th floor
Participants: 7 from Keio University, 1 from Waseda University, and 17 from Young Muslims.
Students from SFC Keio University Laboratory of Professor Yo Nonaka visited Masjid Nagoya this day. A student from Waseda University who came to learn about Islam also joined us. They discussed their thoughts while enjoying the cake freshly baked by Imam.
As always after the Masjid side gave a brief talk about Islam, they held 2 group sessions and gathered all in a circle at last.
We would like to share some of the conversations that took place.
(At the group session)
University Student (U): Why would you want to study more about Islam? (After been asked the same question to them.)
Young Muslim (Y): It helps me find out which actions are befitting for me. And learning a wide range of the ideas I follow, creates my criteria for deciding things.
Y: When the group IS came out and even the people around me have created an evil image of Islam, I thought to myself what can I do? If I know about Islam I can remove that misunderstanding and it may also strengthen me as a Muslim.
U: I assume you had been busy with your studies in school and for the entrance exam, so I wonder what makes you want to study about Islam and go to the Masjid.
Y: This is about my life, so I thought it is better for me to study.
Y: By coming to the Masjid, I can exchange news with friends who are close in age, and it helps me to realize a lot of things. Actually, I am happy to come, because I can meet my Muslim friends here!

(At the last session)
D: I noticed that I feel this some kind of warmness and coziness to be in the Masjid. It is an environment where we are accepted even we are not among the Muslims. But these facts are not known by the people in Japan. This should be spread by every one of us, and let people come to the Majid and I hope they can have a good opportunity to learn about Islam. I recognized that each Muslim is different and has their own motives or ideas, and I guess this is an important perspective for us to be working in "Symbiosis Project with Muslims". I would like to share this with the Japanese Society.
Y: The project you are working on is to make a good society for us Muslims, and I am very grateful about this, but I wonder why you are so kind to us.
D: I personally had a good experience of Muslims from Malaysia and Pakistan treated me very kindly. They were so kind although, the religion, race, country is different! I want to return that favor back to someone.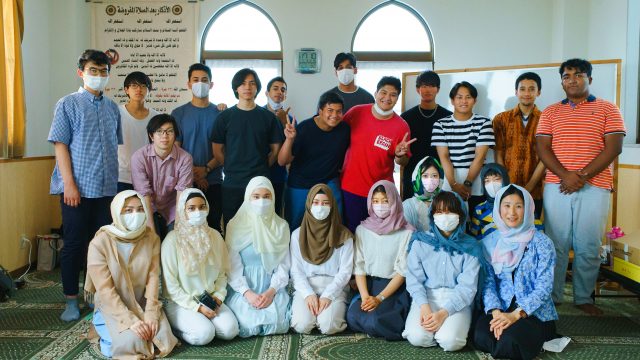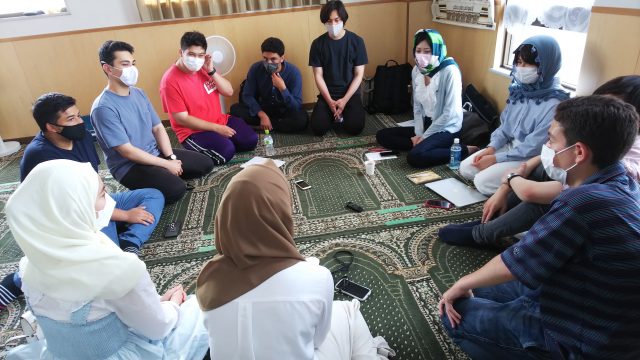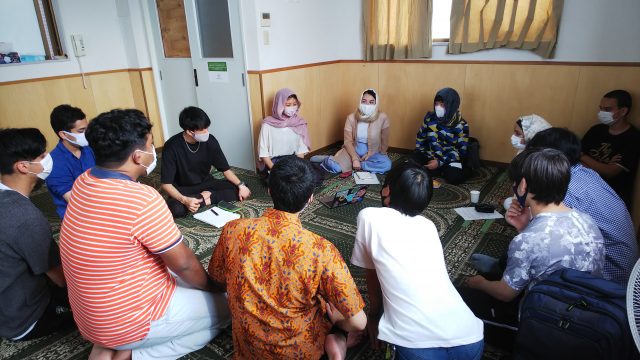 Below are comments received from the young Muslims that participated.
・Today was the most valuable event comparing to the prior ones. It made me happy since the conversations were rich and I myself learned a lot! If there could be another chance, I would love to participate again. (University Student, Girl)
・I asked the laboratory students "When do you think we will not need to have exchange events in the terms of 'Understanding of foreign culture'?" Many guessed that there may never be a time when it is not needed completely. I have the same opinion, but today's event motivated me to do anything I can, for society to have no weird impressions against different cultures. (University student, Boy)
・Today is my first time participating in an exchanging event, and I am very happy since I never knew that there are people who work for us Muslims to live easily. I would be pleased to help the symbiosis society to become reality. (University Student, Girl)
・I am glad to join today's event. It is hard to express how much I have learnt! I wish if I can participate in this kind of exchanging event. (High school student, Boy)
・I am very grateful about the fact I could learn many opinions from the Muslim side and the non-Muslim side. I have enjoined it so much. I would like to make use of this great experience throughout my life. (High school student, Boy)
It is difficult, yet certainly important, to put our thoughts and emotions into words. For the brave participants that spoke today, well done. It was an amazing Dawah.