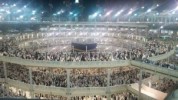 Month of Zul Hijja has approached. Hajj is one of the five compulsory duties (worship pillars) in Islam. In Hajj, a Muslim who is capable physically and economically has to go once in his life to Sacred Makkah and perform particular rituals. Who wills to go to Hajj this year please contact Masjid Nagoya.
≫Details of the Hajj are here 
≫The report of past Hajj are here
Intended period: from 23rd of August till 9th of September in 2017.
Expenses: Approximately 600 000 yens per person
※Japanese who have converted to Islam have a chance to apply to 3 Hajj invitations.
  In case of large number of willing persons, lots will be drawn from those who applied by the end of May.(In case of small number, from June, whoever comes first will be served first.)  Please prepare Islam certification because it is needed to be presented.
As regards persons willing to join, please contact us by Email mentioning your full name, nationality, birthday, and phone number.
For inquiries and application: info@nagoyamosque.com
※We are not receiving inquiries and applications through the phone.