From Monday 16th till Thursday 19th of February 2015
Including the representative of the mosque 8 Muslims joined a trial tour to Okinawa through "Okinawa Convention & Visitors Bureau".
Being famous of its pork and millet brandy, Okinawa is tended to be Not concerned as a journey destination for Muslims, however, they can (still) enjoy its fresh fish and vegetables. Since it is the nearest Japanese land for Muslims from Asia, such as Malaysians and Indonesians, and it is easy to go for Muslims in Japan as a southern island, we hope that it will be prepared as Muslim receiving environment in the future.
The report about (that trip) is as below:
Attendee:
One Egyptian, One Syrian, one Pakistani, two Japanese, and three persons who are half Pakistani and half Japanese.
The first day:
Events: Visiting the limestone-cave in "Okinawa world (park)"
Food: Imaiyu fish food (Itoman Gyomin Shokudou restaurant)/ Viking of locally made food (Yuinchi Hotel Nanjo)
※We performed Zuhur and Assr prayer in the same restaurant we had lunch in. There was prepared a place for Wudhu' on the grass in the garden (of the restaurant), interestingly they put a chair for us there (don't know why!!) Since this was a fish-specialized restaurant, they kindly make us able to feel assured that they used fish soup stock for the famous Okinawa Soba too.
In the limestone-cave, the explanation of the guide person was amazing, everyone marveled at the fact that stone (limestone) grows one millimeter every three years in front of one's eyes, SubhanAllah!
In the room of the hotel, the Qibla was shown. Muslims can also safely use the hot-spring- water bath which is attached to the room. Since ingredients were also shown in pictograms on the food, we were able to judge and choose ourselves.
The second day:
Events: experienced making Muuchii / visiting Peace Memorial Museum (of Okinawa)/ experienced making salt in Gala Aoi Umi and visiting Sango Batake
Food: Viking of locally made food (Yuinchi Hotel Nanjo)/ vegetarian lunch (Tamie's Kichen restaurant)/ vegetarian dinner (RIHGA Royal Gran Okinawa)
※We performed Zuhur and Assr prayer in Gala Aoi Umi restaurant. They prepared a partition for our prayer and a chair (we don't why) for Wudhu'.
We experienced making Muuchii by wrapping it in the leaves of shell ginger (plant). Its ingredients were only brown sugar, Mozuku and MochiKo , therefore it is a safe snack for Muslims too. We enjoyed having the steamed Muuchii with hibiscus tea in the outside while watching the blue sea.
The lunch and dinner were vegetarian food, which is the choice that can save (Muslims) when there is no Halal meat.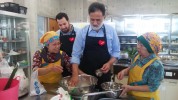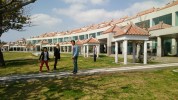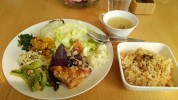 The third day:
Events: visiting Shurijo castle/ experienced dying coral/ seminar about practicing Halal reception/ a stroll in the international street
Food: Viking (RIHGA Royal Gran Okinawa)/ vegetarian lunch box (LOISIR HOTEL NAHA)/ hot plate- roasted seafood (SAM'S SAILOR INN)
※We performed Zuhur and Assr prayer in the waiting room of the hotel in which practicing Halal reception seminar was performed.
In the seminar, there was a keynote speech by officials and non-officials from Chubu region, which is an advanced area in receiving Muslims, and then there was a panel discussion by the attendee. We were given the chance to talk about whether Muslims could be received in the present situation without concerning about Halal certification.
Because dying coral experience could be enjoyed by everyone no matter he is an adult or a child, attendee enjoyed making original Hijab and T shirts (in this experience).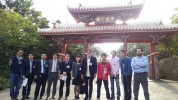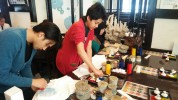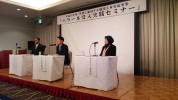 The forth day:
Events: visiting Churaumi Aquarium/ a stroll in Bise Fukugi tree street
Food: Viking (LOISIR HOTEL NAHA)/ Halal Japanese set meal (Yugafuinokinawa Hotel)
※We performed Zuhur and Assr prayer in a room of a hotel that gained Halal certification. Even here there was a chair prepared for Wudhu' (we don't understand why). Moreover, we were shocked to see that there was a doormat prepared to be used as a prayer carpet.
The food can be called a Halal Japanese set meal, in which the main was Tempura and Sashimi , while the Halal meat was only (some) chicken in a Chawanmushi . When we seemed disappointed (to limited Halal meat), although the hotel has Halal certification, they brought us Karaage which was served in Viking in the upper floor, then the attendee were greatly delighted. We were glad that there was a meat-itemed menu (for us).