2015/ 11/ 14
There was hold a fall festival in Kamejima school district to which Nagoya mosque belongs. The place (of the festival) was (Erstwhile) Kamejima Elementary School. Although it was an unlucky drizzling weather situation, but a large number of local persons enjoyed games and stalls inside the gymnasium.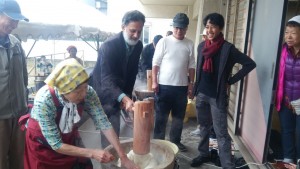 6 adults and 4 children joined the festival on behalf of the mosque. While the little children did ball throwing and received free gifts of sweets, the junior high school child experienced rice-cake making by swinging the heavy mallet with his full power. The fresh made rice-cakes dipped in soybean flour, grated radish, bean-paste, and sweetened or salted soy sauce were offered, and else ZENZAI or ODEN was served too, so everybody seemed full satisfied.
There was also a corner in which we were taught how to use a stretcher in case of an emergency by officials from Kamejima fire fighting team. And there was a chance to receive greetings from members of municipal assembly as well.
Among the staff of the festival there were several persons who were neighbors of the mosque and visited the mosque recently, so they greeted us each time we pass by them (As for the description of this neighbors' visiting here is the link;here)We delightedly hope that Muslim foreigners, males and scarf-figured females too, would join such activities and thereby integrate naturally into their local environment.