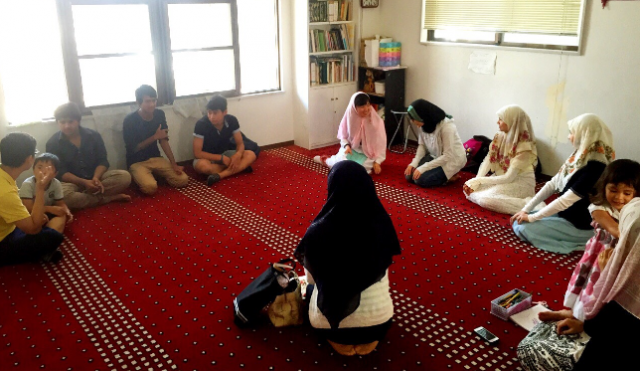 The students of SEIREI high school who came in June visited the mosque for the second time. More than half of the students were different from those of last time and 8 Muslim students sat with them. The following lines describe the situation (of that meeting).
Date and Time: 7th of August (Fri.) between 1:30 and 3:00 PM.
Place: prayer room in second floor of Masjid Nagoya.
Visitors: 5 males and 3 females.
Answering a question that said "as a Muslim and as a half Japanese how do you find Japan?" the Muslim students gave many accounts of their experiences such as "we have a lot of suffering as we cannot be understood by our Non Muslim classmates as regards our everyday's meal or fasting during Ramadan". The visitor who asked that question, and who thought that the most painful thing in fasting was the long time in which one cannot eat, was surprised but seemed convinced to hear many accounts saying that the really painful thing was lack of understanding by the environment.
Because it was just after the end of Friday's prayer, and there were a lot of men in the mosque, we talked about Friday's prayer and how Muslims usually utilize the mosque, and explained about Ramadan and Iftar while showing them the dates actually.
The visitors requested that "diversification is progressing from now on in Japanese companies, so since it will be essential to understand persons who have various backgrounds such as Muslims, foreigners and half Japanese, please let us from now on exchange from time to time in the mosque". We believe it will be right to continue good exchanges.
Impressions of SEIREI high school students arehere。