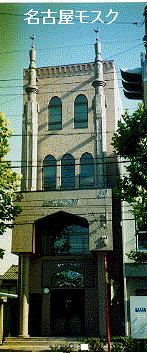 Referring to the history of Islam in Japan, the first Masjid was built in Nagoya in January 1937 at the following address: 16 Banchi 25, 3 Chome, chikusa-ku, Nagoya.
It was called "The Nagoya Muslim Masjid".
The source of this information is a book titled: "The Nagoya Muslim Masjid: A Souvenir Booklet Issued In Commemoration Of The Opening Ceremony" published by Nagoya Turkish Tatar Islamic ssociation-January 1937.
This book has included many articles from the members of the Masjid in three languages-English, Tatar, and Japanese.
According to this book some Turk Tatar migrated from Russia during early 1920s and settled in Nagoya.
They established an association which had a Board of Trustees and Board of Directors .
In another recently published book (in 1988) by Japanese Islamic Amenity Association about the history of Islam in Japan which called "Nihon Islam-Shi" written by Muhammad Mustafa Komura Fujio (pages 300 and 301).
It is mentioned that the Masjid was built in a space of about 40 squire meters, which was two-storied, wooden and mortared frame house.
The first floor was used for worship, and there was a school for Turkish children.
At the Masjid there were about 20 Turkish members who had been engaged in Islamic Activities in Nagoya City at that time.
But they were urged to repatriate by the Turkish government as the tide of war turned against Japan during World War Two, and at last they dispersed after selling the building and the land in early 1945.
Soon after that, the building of the Masjid was burnt down by an air-raid of American B-26 plane at 8:30 in the morning of May 14th, 1945.
Since then and until 1998 no any Masjid has been built by anybody in Nagoya.
The present Masjid Nagoya is established in 1998. It is opened on July 24 of the same year.